Amanda can help you write training, discipleship, coaching and leadership programs for your church, college or business.
Amanda is a published author and instructional designer who writes training programs for accredited courses with C3 College and has partnered with different churches and organisations to write leadership programs for pastors and discipleship workbooks for church members. She has the following varied experiences and expertise as a writer:
Published author of the book 'Women Rising'.
Presently writing 'Stand and Contend' a book about spiritual warfare, healing and deliverance.
Amanda is part of a team of instructional designers who write the Participant and Facilitator manuals for these modules. These accredited courses consist of eight, 2 hour sessions per module and may be completed individually or in a group setting. Amanda was involved in writing: Identity in Christ, Advanced Discipleship Principles, Bible Interpretation, Old Testament (2 modules) and Theology (2 modules).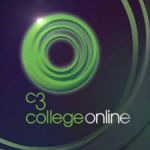 Written with Andrew Gray, pastor of C3 Church Mt Annan; this series of six workbooks provide a strategic and systematic discipleship program to promote the growth and maturity of every believer within a church. Each Training Track has been designed to be completed in one of three formats: One-to-One, in a Small Group, or in a Class Setting.
The Training Track program includes: 1. New Life 2. Church Culture 3. Kingdom Character
4. Discovering Spiritual Gifts 5. Leadership One 6. Leadership Two

These two programs were written by John Finkelde from Grow a Healthy Church, in conjunction with Willow Creek Association Australia, Amanda was involved in writing the Coaching Learning Exercises for the Participants and the Instruction Manual for the Coaches. Your Leading Edge is a 12 month, 7 module premium coaching program for pastors. Next Level Leadership is a program to develop leaders and sharpen their life, leadership and ministry skills.